It's common for companies to tell you their value, but they really don't explain it, which is vastly more important. So, we feel that it's important that we touch on, in more detail, some of the things that make us stand out and what you get out of hiring us. This is a screenshot from our website and some of the things that we'll go over:
Without our amazing crew we wouldn't be a company and they're at the center of everything that we do, which has allowed us to thrive, even during this pandemic. Dream Clean is a firm believer that if we take care of the people that come into your home the rest will take care of itself. 

We accomplish this a few different ways, one is by offering our crew very competitive pay, because people care more when they are compensated well for their efforts.
This is something that is vital for a cleaning company because our clients are allowing us into their homes, and so we want access to the best candidates that we can find. People take pride in their work and jobs when they know that they can sustain themselves, which is important to us as a company. 
To continue to be a leader in our industry, we've increased our starting wage over a dollar an hour, and we gave our current staff the same amount in an hourly raise, at the start of the New Year! 
Dream Clean is proud to offer our crew health insurance with an accident insurance policy, and starting in 2021 we'll be adding retirement benefits with a 3% match. Again, we cannot say it enough: if we take care of our crew they'll take care of you. By the time our crew member becomes a field manager [3-4 months of training] they're averaging over $16.00 an hour with total compensation. 
During the pandemic, Dream Clean used resources to invest into our training program and hired a professional videography company to produce high quality training videos for our crew. This has greatly streamlined the training process and helps to ensure that our clients always get that consistent and detailed clean that they are used to!
The crew has a five week training program and focuses on an area of a home each week. They are supervised by a field manager who double checks their work before they can move on to the next area. 
Dream Clean thrives on feedback, as you can see from our reviews, and we use this to gauge when our crew is ready for the next promotion. We strive for customer satisfaction and want to get a 5-star rating every time, which is why we use that as a measurement of success. Currently, we have over 100 reviews between Google, Yelp and Facebook and here are some that you can view on our website:
A lot of our staff is made up of young people, which we are extremely proud of. There are a lot of employers, in the area, that will not hire or give them a chance but we know what they can do.  We're sure this has surprised many of our clients, who see a crew of  mostly young people walking in to clean their home, which is understandable, but also why we invest so much into their training. 
This is a very good opportunity for them to ease into the workforce and to pick up essential skills in their career development. Within 3 or 4 months they can become a field manager and run their own team and to this day one of the owners, rolls up their sleeves, and works with the crew in the field and talks to them about their hopes and dreams. This allows us to help shape the future leaders of our community and we're proud of that. 
Small Locally Owned Company
One of the best things, about being a small business, is that we're able to innovate quickly to meet the needs of our clients. We try to be as flexible as we can be, and after listening to our client's requests we recently added baseboards and outside cabinets to the Basic Clean extras list!
This is a really cool feature because it allows our clients to get the two most sought after items from our Deep Cleaning and Move In/Out packages without paying the entire cost of them. There are times when you don't need items like walls (spot checked), doors, frame, light fixtures or ceiling fans done, but the baseboards and cabinets could use some love. Not to mention that nearly everyone dislikes doing the baseboards and so pay us to do them for you!
We want to make sure that you know what you're getting for the price that you are paying. Not only can you view our comprehensive checklist online, in several places, but you can also get a quote online in a matter of minutes. 
The online quote estimator allows you to get a realistic quote without having to call in or to get on a schedule for an in person bid.  If you prefer to book over the phone, which is perfectly fine, our office managers use the same tool when they give you your quote. This allows you to see exactly how we got the price that we did.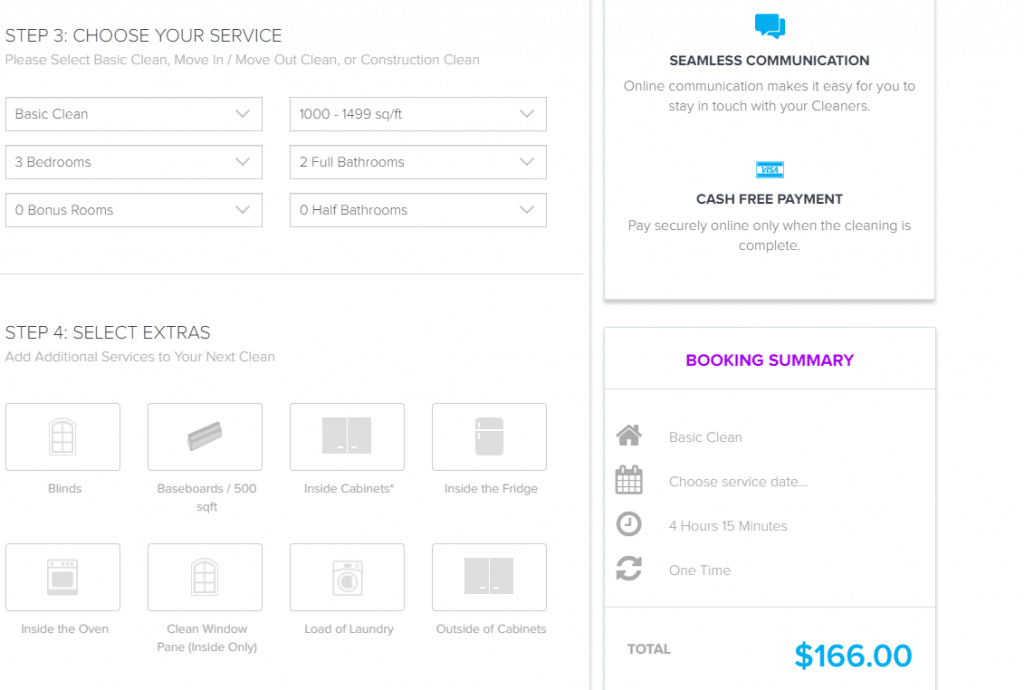 We work off a flat rate + the condition of the home, because that determines the overall work that goes into the cleaning. So when you book online, or over the phone, you will rate the condition of the home as it is. This is what it looks like on the website:

It's a sliding scale from 1 to 10 with  5 being the average. We do understand that everyone's idea of what cleanliness looks like can vary. For this, we have our field managers rate the condition ask them to send photos into the office so the manager there can rate it, as well. If there's a big difference in the overall condition of the home, than how it was rated, someone from the office will give you a call with a better estimate. 
We get a lot of calls from prospective clients that have booked with other cleaning companies who've cancelled at the last minute, which is not something that you need to worry about with Dream Clean. Thankfully, we've never been in a position that required us to cancel a cleaning, and we don't foresee that changing. No matter what the situation is, getting your home or office cleaned on the day it was set for should be the last thing you need to worry about, and our system allows you to set it and forget it. If you book recurring services with us our system will do the rest for you and even send you a few reminder emails leading up to your cleaning.
Dream Clean also allows you to try our services worry free. You don't have to sign a contract to start up with us and can get a one time cleaning of any cleaning package that we offer. Then should you like our service you can sign up for monthly, bi-weekly or weekly cleanings and you'll receive a discount based on the frequency you select. 
We believe that if you're paying us with your hard earned money we need to do everything thoroughly! Dream Clean uses a variety of products to ensure a job well-done and you can rest assured that your home is clean because we wet wipe everything. While we might not be the cheapest cleaning company in the valley; we do give you the best thorough cleaning for your dollar. To ease any concerns that you might have, before booking with us, know that we offer a 24hour guarantee with our service. If for some reason you're not happy with your cleaning we just ask that you give the office a call and we'll work with you to resolve the issue. Our team strives for perfection but they are also human and sometimes mistakes will happen, and when those occur the crew is equally upset. The crews work very hard to give you that amazing feeling of walking into a perfectly cleaned home, as that's validation of their work. If there was something that was missed or not cleaned well the office manager will evaluate if we need to send someone out to fix it or if an appropriate credit needs to be applied. 
Fabulous Online Tools & Client Portal
One of the best things about being a Dream Clean client is that you get access to your own portal, which allows you to do pretty much everything! If you ever need to: upgrade your cleaning, reschedule to another day, add some extras, update a credit card or even want to tip the crew, it can all be done from your own portal. We want to simplify your life and so we've invested a lot into our online system and tools to allow you to seamlessly make the changes that you need without any hassle. We also understand the importance of having the ability to get ahold of us, and we can be reached by phone or email during normal business hours. If we don't answer right away please just leave a voicemail and someone will get back to you as soon as possible. 
These were just some of the reasons why we should be your next cleaning company! The proof really is in the pudding and so once you've had the Dream Clean experience it's hard to imagine how you got along without us :). We are thankful for the ability to earn and keep the business of our clients, and we were lucky enough to grow during these unprecedented times. When we expand, as a company, more people are able to benefit from our employee based philosophy and that's good for our communities. We will always strive to be a positive force.