Are You In Need of a Reliable House Cleaning Company?
Dream Clean has never had to cancel a job on a client, even during the pandemic. We do get  lots of calls from realtors and buyer's agents and clients, alike, asking for last minute cleans because the company they had booked with cancelled or pushed it out. You will never have to worry about us canceling a clean that you have booked with us – we have never cancelled a cleaning on a client. 
We know that your time is valuable as a realtor and we completely understand that you don't have time to constantly follow up with a cleaning company to make sure that the job gets done properly. We pride ourselves on getting the cleaning done right the first time. We have a comprehensive checklist that all of our team members follow on each and every clean that is done.
Why Realtors Choose Us for Their Clients
Get a Quote in Seconds Not Days
Not only can you get a quote within minutes, either online or over the phone, but you can also view your bookings in your own client portal. The online booking form is so simple and easy to use you'll wonder how you got by without it. 
Dream clean has been in the residential home and house cleaning business for over five years. We are the highest rated cleaning company in the Treasure Valley – and for good reason! We train our staff using processes and our checklist so that all of our clients get the same results each and every time.
Ready To Have Your Clients Home Professionally Cleaned?
Book Your Clients House Cleaning Service
Cleaning Services for Realtors and Buyers Agents
We happily partner with local real estate agents to provide special home cleaning services that can enhance your marketing efforts.  If you have any questions please don't hesitate to give our office a call at 208-562-9012
Our Online Quoting Tool Saves You Time
Quote In Minutes!
Simple and easy to use.
Ability to pick and chose from extras.
Checklist for cleaning packages is online.
To see the quoting tool in action simply
click here
to visit the page and get your free cleaning quote in 60 seconds or less!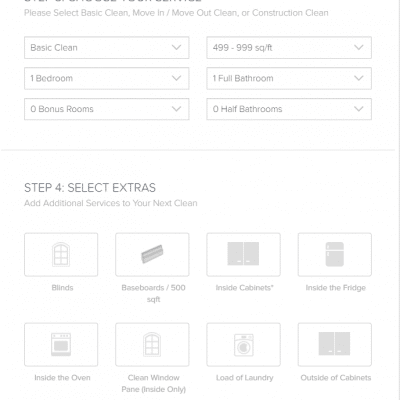 Are Your Clients Moving In or Moving Out?
Our Move Out Cleaning can quickly help get a home ready for you to show. Have a house that needs a thorough cleaning prior to a client moving in or one that the previous tenants didn't do such a great job cleaning? Or perhaps your clients have moved to their new location.  Our professional team is ready to provide the very best services to your clients.  We can also assist with new home, post construction clean up.
Let Us Help You Sell More Homes
We want to become an important part of your sales team by providing the best quality cleaning available in the Treasure Valley.
When preparing a house to be put on the market, nothing is more important than cleanliness. Let us help you and your seller by quickly and thoroughly cleaning their home to give the very best first impression!
Gift Cards For Your Customers
Looking for a house warming gift for your client? We offer the ability to buy a gift card and the best part is you already have all the details on the client's home. Which will make it really easy to get an idea of how much you need to purchase for the cleaning. 
*Please keep in mind that the online tool is still only a quote and the client could be charged more depending on the condition of the home*
Ready To Have Your Clients Home Professionally Cleaned?
Book Your Clients House Cleaning Service